Book Review: The Problem with Forever by Jennifer L. Armentrout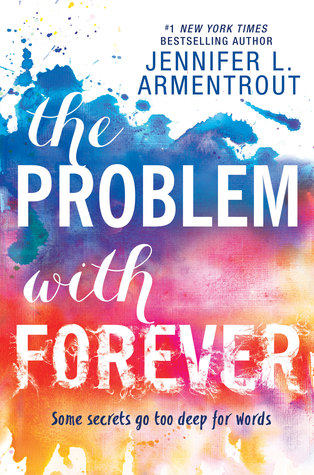 Book:
The Problem with Forever
Author: Jennifer L. Armentrout
Published: May 17, 2016
Publisher:
Harlequin Teen
Number of Pages: 480
Format: Hardcover
Sourced: Bought on Amazon
Rating: 5 Stars
Tags:
Cry Baby, Contemporary, YA,

Favorite
Amazon/Goodreads/Barnes & Noble
Synopsis:
For some people, silence is a weapon. For Mallory "Mouse" Dodge, it's a shield. Growing up, she learned that the best way to survive was to say nothing. And even though it's been four years since her nightmare ended, she's beginning to worry that the fear that holds her back will last a lifetime.

Now, after years of homeschooling with loving adoptive parents, Mallory must face a new milestone—spending her senior year at public high school. But of all the terrifying and exhilarating scenarios she's imagined, there's one she never dreamed of—that she'd run into Rider Stark, the friend and protector she hasn't seen since childhood, on her very first day.

It doesn't take long for Mallory to realize that the connection she shared with Rider never really faded. Yet the deeper their bond grows, the more it becomes apparent that she's not the only one grappling with the lingering scars from the past. And as she watches Rider's life spiral out of control, Mallory faces a choice between staying silent and speaking out—for the people she loves, the life she wants, and the truths that need to be heard.
"I still had a lot of work to do and that was my work to complete and it was my voice that needed to be heard when I needed to speak. No one else. It was me who had to carry myself over the finish line, and all I needed to remember when I felt like not trying was that feeling wouldn't last forever."
I have never read a contemporary book by Jennifer L. Armentrout. I've read her fantasy and

science fiction, but I haven't read a contemporary by her. I was a little hesitant going into this (even though I started reading it the day I got it), and it was even better than the LUX series. While you can't really compare the two, this one is on a

totally different level of greatness.
In this book we follow Mallory four years after she was rescued from an abusive foster home, where she lived with Rider. Mallory was adopted by two loving doctor, and is attending her senior year at public school. This is huge because Mallory do

esn't talk much. But on her first day, she reunites with Rider.
The writing in this book was wonderful. I have always liked Jennifer L. Armentrout's writing, but this was fant

astic

writing. It was so emotional, beautiful, and had great transitions into flashbacks. I was always able to vividly see scenes in my head, especially

when reading about her childhood.
This book deals with a lot of difficult topics including child abuse, child neglect, mental health, and recovery. These can be very difficult to talk about, and Jennifer L. Armentrout did it

beautify

. There was the right mix between difficult and romance

that made me always want

to keep reading

.
Yes there is romance in this book, and yes it is kind of an insta-love. But I think that it works, and here's why. They had know each other through a really tough time, and Rider was her protector. They have chemistry, and I understand why they would quickly fall for each other. I really liked the romance in the story. I thought that is was realistic, cute, and fun. Ev

en with Paige.
I adored Mallory. I could see myself in Mallory. Not by being abused as a child, but by being shy. Shyness is something that a lot of people deal with, and it was really cool to see Mallory overtime become more outgoing. With the help of her parents, friends, Rider, and

therapist

. It was so cool to read about how it's okay to get counseling and to see a

therapist

, because it is okay! It's important have good mental health, and I loved that that was brought up.
Overall this book was wonderful. It was emotional, heart breaking, and even romantic. With wonderful writing and a tiny bit of humor, I highly recommend this book (as I do all of Jennifer L. Armentrout

's books).