Book Review: Anything You Want by Geoff Herbach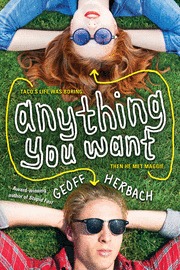 Book: Anything You Want
Author: Geoff Herba

ch
Published:
May 3, 2016
Publisher: Sourcebooks Fire
Number
of Pages:
320
Format: Ebook
Received

: From Publisher via Net

Gelley
Rating

:
3 Stars
Tags:
Cry Baby, Contemporary,

YA
Goodreads/Amazon/Barnes & Noble
*My thanks to Sourcebooks Fire for providing me a copy of this book via NetGalley. All opinions in this review are my own.*

Synopsis: Taco's mom always said, "Today is the best day of your life, and tomorrow will be even better." That was hard to believe the day she died of cancer and when Taco's dad had to move up north for work, but he sure did believe it when Maggie Corrigan agreed to go with him to junior prom. Taco loves Maggie- even more than the tacos that earned him his nickname. And she loves him right back.

Except all that love? It gets Maggie pregnant. Everyone else may be freaking out, but Taco can't wait to have a real family again. He just has to figure out what it means to be a dad and how to pass calculus. And then there's getting Maggie's parents to like him. Because it would be so much easier for them to be together if he didn't have to climb the side of the Corrigans' house to see her...
~My Review~
I don't understand this book. I do, but I still don't at the same time. What the book actually ended up being is totally different from what I thought it was going to be. The cover and synopsis don't really represent the book. Just to warn you.


In this book we follow Taco, as almost everything goes wrong for him. His girlfriend gets pregnant, he breaks his butt, he has some problems with the law, and to go along with all of that; his dad abandoned him and his brother, his mom died a couple years back (which caused his dad to leave), and his brother is and alcoholic. Yet throughout this whole thing, he continued to be the happiest person I have ever read about.
Lets get one thing straight, I am a pessimist. And Taco, his is the biggest optimist I have ever heard of. In the beginning of the book, Taco was really annoying and I had a hard time getting through the first third of the book, but after that, his happiness became infectious. Even if he had almost no common sense.

So, you and your girlfriend have unprotected sex. She starts showing signs of pregnancy. Do you a.) logically think, "My girlfriend might be pregnant," or b.) think that your girlfriend is possessed by a ghost. It wasn't even that he didn't know she was pregnant, it was that he thought that she was possessed by a ghost. Really?

The thing that I liked about this book was that it showed the different ways people deal with grief. Some people look on the bright side (Taco), some people run away (Taco's dad), and some people drink (Taco's brother). Everybody deals in different ways, and I like how the author was able to show three of these different ways.

I wasn't able to really connect with any of the characters, yet near the end of the book I found myself crying like a cry baby. I don't really know why, it wasn't because of Taco; I think that it was because of the overall situation. Everybody was in really bad situations, and it was just really bad. So, yes I cried.

The reason I only gave this book three stars was because it was all over the place. While I knew what he was doing and why he was doing it, it just seemed like it wasn't enough for a book. There wasn't a big story line, and it just seemed more like the life of a teenager who had unprotected sex. Which is good and fine for a contemporary novel, but I guess that I was just expecting more.

Overall, this was a fun book. With characters that can annoy you, and heartbreaking (and shoulder breaking) situations, this book might be worth the read.