Book Review: Speak: The Graphic Novel by Laurie Hale Anderson, with Illustrations by Emily Carroll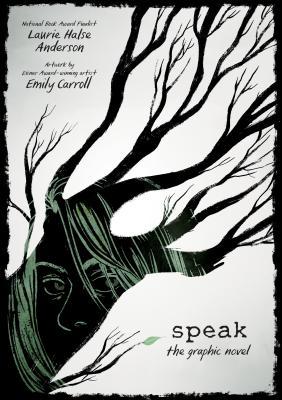 Book:
Speak: The Graphic Novel
Author:
Laurie Hale Anderson
Illustrator:
Emily Carroll
Published:
February 6, 2018
Publisher:
Farrar, Straus and Giroux
Number of Pages:
372
Format:
Hardcover
Source:
Bought
Rating:
3 Stars
Tags:
Graphic Novel, YA, Mental Health,
Contemporary
Trigger Warning:
Rape, Self Harm
Goodreads
/
Amazon
Synopsis:
"Speak up for yourself-we want to know what you have to say."

From the first moment of her freshman year at Merryweather High, Melinda knows this is a big fat lie, part of the nonsense of high school. She is friendless--an outcast--because she busted an end-of-summer party by calling the cops, so now nobody will talk to her, let alone listen to her. Through her work on an art project, she is finally able to face what really happened that night: She was raped by an upperclassman, a guy who still attends Merryweather and is still a threat to her.
I have a confession. I didn't read the original book before this one, in fact, I didn't even know it existed. Whoops? Anyways I went into this with just the synopsis and a quick peak at the artwork inside. And I did enjoy this one, but not as much as I had hoped.
The best part of this book had to be the artwork. Carroll's art fit perfectly with the theme of the book. It was soft when it needed to be, and harsh when it called for it. I especially enjoyed Carroll's use of color, or, lack there of. By using greys and whites for her backgrounds, it really pops when she switched to solid black, and made it very impactful. Carroll has a very memorable art style, and I look forward to exploring more of her work.

While the artwork was wonderful, I felt that the story was lacking. While I did enjoy the story, and understood the basics of it, I felt like it needed more. The story needed more detail, more writing, more, everything. Because I understood what the book was aiming for, but it felt incomplete. I wish that I had read the original version before the graphic novel version; would've made the experience more enjoyable.

I did really enjoy seeing and reading about Melinda. I was able to connect with her in certain ways, and not in others. The way she though, some her actions, especially the views she had regarding her family. It was really interesting, actually; I had never seen anyone describe what she wanted with her family the way that she had. Besides for me of course. Melinda was a resilient character. It may not have seemed like it, but she really was. Another reason why I think that this story would be better as a full novel; we would've gotten to see more of Melinda. More of her bravery.

So overall this was an okay graphic novel. While the artwork was stunning, I felt that the story was lacking. I would recommend giving this one a read after reading the novel first. Or if you just want a quick overview of the story, while being able to look at some great art, this one might just be for you.
Follow Me:
Blog
/
Instagram
/
Twitter
/
Goodreads
/
Bloglovin'