Book Review: A Court of Thorns and Roses by Sarah J. Maas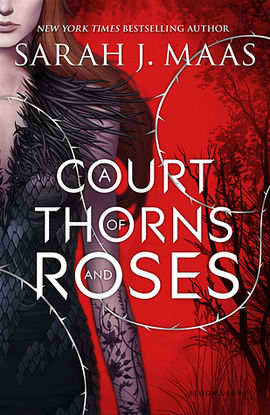 Book: A Court of Thorns and Roses (A Court of Thorns and Roses #1)
Author: Sarah J. Maas
Published: May 5, 2015
Publisher: Bloomsbury
Number of Pages: 416
Format: Hardcover
Source: Library
Rating: 4.5 Stars
Tags:
YA, Romance, Retelling, Readathon, Favorite, 4.5 Stars,

#COYER
Goodreads/Amazon
Synopsis:
She stole a life. Now she must pay with her heart.

When nineteen-year-old huntress Feyre kills a wolf in the woods, a beast-like creature arrives to demand retribution. Dragged to a treacherous magical land she knows about only from legends, Feyre discovers that her captor is not an animal, but Tamlin—one of the lethal, immortal faeries who once ruled their world.

As she dwells on his estate, her feelings for Tamlin transform from icy hostility into a fiery passion that burns through every lie and warning she's been told about the beautiful, dangerous world of the Fae. But an ancient, wicked shadow over the faerie lands is growing, and Feyre must find a way to stop it . . . or doom Tamlin—and his world—forever.
"Long ago, the High Fae had been our overlords- not gods. And they certainly hadn't been kind."
I love Sarah J. Maas's books. It's always a joy when I get to read them. There's something so magical about them, and I always seem to love everything that she writes.
In this book we follow Feyre, as a bunch of crazy (or should I say magical) events occur. Feyre is a nineteen-year-old hunter, and she lives in a small cottage with her family. But one day she kills a Fae in wolf form, and she gets taken away to the Fae land for her crimes.
The world building in this book is spectacular! There is so much in the world and magic system, and Sarah J. Maas executes everything beautifully. I could see every detail in my mind, and the book was so beautify written. The world building and the writing were my two favorite parts of this book.
I liked Feyre, but I didn't quite love her. I really liked her at the begining of the book. She was strong minded, independent, and always had a good comeback. Around the the middle of the story she became weaker, and I didn't like her as much. It was like she had given up. Then she got strong again (even if her plan was incredibly stupid), and she ended up okay at the end. So we left on a positive note there.
Tamlin was okay. I didn't really like him, but he's a good fit for Feyre right now. I liked Lucien, and I loved Rhysand. For some reason I tend to ship characters with evil and dark characters, but oh well. I though that he was smart, resourceful, kind, and maybe just a little bit evil. I really hope that he a Feyre become a couple in the next book! #TeamRhys
I do wish that there was a little more action in the middle of the book. It felt like there was action in the beginning, none in the middle, and then a ton at the end. So I do wish that the end action spread out into the middle a little bit.
So overall, I loved this book! While the storytelling and world building are hight parts of this book, the suspense, action, and romance will leave you wanting more.