Cover of the Week: Proof of Forever by Lexa Hillyer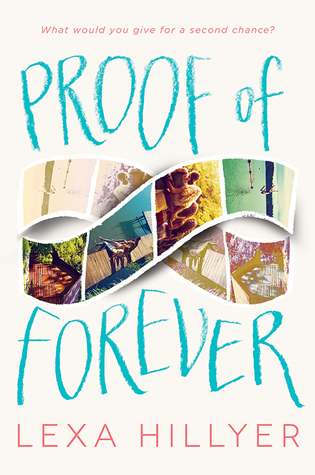 Before: It was the perfect summer of first kisses, skinny-dipping, and bonfires by the lake. Joy, Tali, Luce, and Zoe knew their final summer at Camp Okahatchee would come to an end, but they swore they'd stay friends.

After: Now, two years later, their bond has faded along with those memories.

Then: That is, until the fateful flash of a photo booth camera transports the four of them back in time, to the summer they were fifteen—the summer everything changed.

Now: The girls must recreate the past in order to return to the present. As they live through their second-chance summer, the mystery behind their lost friendship unravels, and a dark secret threatens to tear the girls apart all over again.

Always: Summers end. But this one will change them forever.
I really like how the cover goes with the description. They go back in time, so there is a infinity sign; they also use a photo booth, so there are photos in the infinity sign. I really like how it relates to the story (as much as I can tell), while still looking cool. What do you think of this cover? Let me know in the comments!