Book Review: I'll Give You the Sun by Jandy Nelson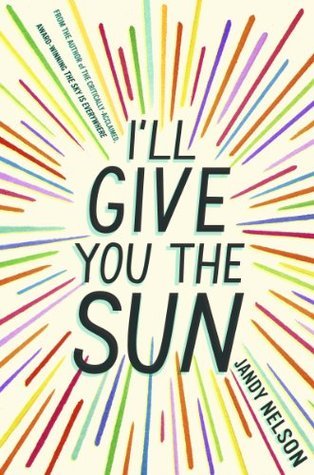 A brilliant, luminous story of first love, family, loss, and betrayal for fans of John Green, David Levithan, and Rainbow Rowell

Jude and her twin brother, Noah, are incredibly close. At thirteen, isolated Noah draws constantly and is falling in love with the charismatic boy next door, while daredevil Jude cliff-dives and wears red-red lipstick and does the talking for both of them. But three years later, Jude and Noah are barely speaking. Something has happened to wreck the twins in different and dramatic ways . . . until Jude meets a cocky, broken, beautiful boy, as well as someone else—an even more unpredictable new force in her life. The early years are Noah's story to tell. The later years are Jude's. What the twins don't realize is that they each have only half the story, and if they could just find their way back to one another, they'd have a chance to remake their world.

This radiant novel from the acclaimed, award-winning author of The Sky Is Everywhere will leave you breathless and teary and laughing—often all at once.
"A leopard can't change its spots, now can it?"
This books has a lot of hype, and let me tell you, it totally lived up to it. In this book we follow twins Noah and Jude as we try to figure out what caused the once inseparable twins, to separate. I loved reading from both Jude and Noah's perspective, and this is defiantly a favorite of 2015 for me.
I thought it was really interesting that how when you read from Noah's perspective, he was between the ages of thirteen and fourteen, but when you read from Jude's perspective, she was sixteen. If you notice, she chose the ages at which they were both the most artistically creative. Because of this, Nelson was able to use fabulous imagery to paint pictures in your mind. This was my favorite part of Noah's perspective. He described the pictures he was making his mind, and I could picture them in my mind. That was so cool, especially because he was always coming up with new pictures.
At the end of the book I was trying to decide who's perspective I liked better, and I had a really hard time choosing. They were both so essential to each other, and I enjoyed them both. I think that I liked Jude's perspective a little better though. As I was reading from Noah's perspective, I kept feeling so bad for him! He was going through so many different things, and it was nice to see him in present day. Well, it wasn't really nice, but it was interesting to see how he had changed. You were able to still see how Noah was developing as a character, even if it wasn't from his perspective.
It was really cool to see Jude develop through out the book. You go from Noah's perspective; where she is moody, and really mean; to this scarred girl without someone to turn to when she needs help. It really shows you how different things effect different people. Where as Noah went from a great artist afraid to break out of his shell, to a popular teenager to jumps off of cliffs and doesn't draw anymore. Then at the end of the story to see how they both end up... it was just so heart warming to see them happy because I had become so attached to them.
I really liked the romance in this book. It was a main part of the stories, but it was well written. I did like the romance between Oscar and Jude better than Noah and Brian. I didn't like how Brian sometimes treated Noah, that gave me mixed feelings about him in general. I really liked Oscar though. He was funny, smart, and really kind. I am glad that he and Jude met when they did, and that there is something more on the horizon for them.
Overall, this was a wonderful book! I loved the characters ad watching the grow during the hard times. This book made me laugh, cry, and feel almost every emotion I can think of. I recommend this book to everybody.