They All Fall Down by Roxanne St. Claire (Book Review)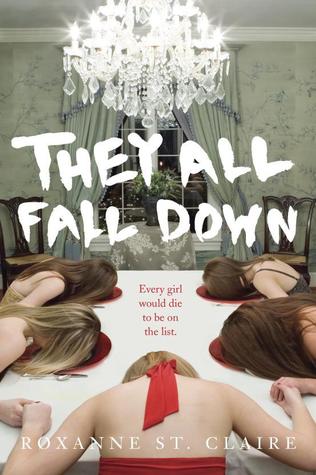 Pretty Little Liars meets Final Destination in this YA psychological thriller that will have readers' hearts racing right till the very end!

Every year, the lives of ten girls at Vienna High are transformed.

All because of the list.

Kenzie Summerall can't imagine how she's been voted onto a list of the hottest girls in school, but when she lands at number five, her average life becomes dazzling. Doors open to the best parties, new friends surround her, the cutest jock in school is after her.

This is the power of the list. If you're on it, your life changes.

If you're on it this year? Your life ends.

The girls on the list have started to die, one by one. Is it a coincidence? A curse? Or is the list in the hands of a killer?

Time is running out for Kenzie, but she's determined to uncover the deadly secret of the list...before her number's up.
-Review-
I went into this book with low expectations because a) I'm not the biggest fan of mystery/horror, and b) the storyline sounded cheesy ("The Hottie List," really?) I am pleased to say though that I was pleasantly surprised. There were minor problems I had with this book, but other than that I enjoyed reading it!
So in this book we follow Kenzie, and every year at her school boys vote for junior girls to be on the Hottie List. The Hottie List is basically the top ten hottest girls that the boys vote on, and Kenzie, who is a complete Latin nerd, finds herself at number five.

Normally this would be a good thing, getting to date one of the hottest guys in school, go to cool parties, but getting killed is not one of them. The girls on the list start dying in accidents, but Kenzie is not so sure that they are just accidents.
One of the things that bugs me the most about Mysteries is that I can almost always tell how the story is going to end, but that was not the case here. I was always second guessing my theories, and did not see the ending coming at all. It was not a life changing reveal, but I was surprised and could think back to earlier in the story to where the clues were. Great planning.
One thing that I did want more of was the romance between Kenzie and Levi. I feel like their relationship happened to fast and I would have liked it if we got to see more of them dating and getting to know each other better.
I wish that there was another book in this series. The author ended the book nicely, but left enough room open that I want to know more! What happens? I would explain more, but I don't want to spoil the book. You'll understand if you read the book.
Overall, and fun book that I had minor problems with. Also, now id the perfect time to read this one as it is getting closer to Halloween.
*Links*
They All Fall Down on Amazon
They All Fall Down on Barnes & Noble
They All Fall Down on Goodreads