Review: LINK by Summer Wier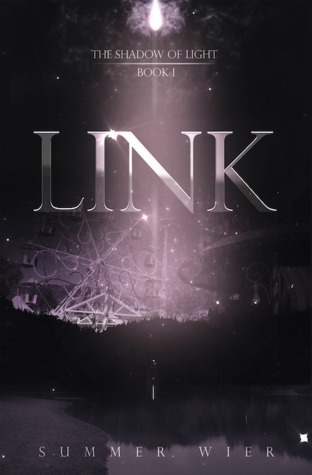 For seventeen-year-old Kira, there's no better way to celebrate a birthday than being surrounded by friends and huddled beside a campfire deep in the woods. And with a birthday in the peak of summer, that includes late night swims under the stars.

Or at least, it used to.

Kira's relaxing contemplation of the universe is interrupted when a piece of it falls, colliding with her and starting a chain of events that could unexpectedly lead to the one thing in her life that's missing—her father.

Tossed into a pieced-together world of carnivals and gypsies, an old-fashioned farmhouse, and the alluring presence of a boy from another planet, Kira discovers she's been transported to the center of a black hole, and there's more to the story than science can explain. She's now linked by starlight to the world inside the darkness. And her star is dying.

If she doesn't return home before the star's light disappears and her link breaks, she'll be trapped forever. But she's not the only one ensnared, and with time running out, she'll have to find a way to save a part of her past and a part of her future, or risk losing everything she loves.

Dreamy, fluid, and beautiful, Link pairs the mystery of science fiction with the minor-key melody of a dark fantasy, creating a tale that is as human as it is out of this world.
*I received a copy of this book in exchange for an honest review. All opinions I have on this book are my own.*
This was an interesting book. I enjoyed certain aspects of this book, but there were things that really bugged me. One of those things being that I never really figured out what was going on in this book. In this book we follow Kira, who lives with her mother, and spends the rest of her time with her three best friends. All of that changes though when she gets hit by a star while she is swimming in the lake. This causes her to travel to a different planet, Asulon, where there are strange things going on.
I really liked Kira in the beginning of this book. She was not perfect, but she was really human. I could see myself making the same decisions as her. As the book went on though, I thought that she was making more and more reckless and stupid decisions. Causing me to like her less and less.
The ideas of space in this book were so cool! You can tell that Wier did her research on black holes, stars, and all things space. The cool thing is that she was able to mix the space element with magic to make a really cool atmosphere. Another cool thing with the space and magic were portals. All of these things together made the book even better.
I hated the romance in this book. First lets talk about Zane. I liked Zane. I definitely enjoyed reading about him, but we barely get to see him! They had probably the most real life relationship I have read about in YA. Best Friends first, and then the relationship when they were both ready. Evan on the other hand, I did not like at all. Their relationship insta-love. There was no chemistry, Evan just seemed to fall in love with her because she was the first teenage girl he met. It was very annoying, and I wish that we got to see more of Kira and Zane's relationship.
I also found that this book was really a set up book. This book sets up the rest of the series. I was able to guess where the plot was going and just got confused sometimes. Overall though, this was an okay book with a really cool space and magic combination. With an okay cast of characters and a semi cliffhanger, I will be reading the next book.
I liked this book, but I had a decent amount of problems with it.
About the Author
Summer Wier grew up spending Saturdays with a maxed out library card and her nose in a book. But as much as she loved reading, and even writing, both took the back seat when it came to career choices. With her sights set on law school, corporate greatness, and even a hankering to become the first female president, she set off to conquer the world. As life would have it, though, she didn't attend law school, nor did she become president (although, one day, your vote may be appreciated), finding her strengths, instead, in accounting and business management. After finishing her MBA, she revived her love for reading and began writing with dreams of finishing a book of her own. When Summer isn't working, reading, or writing, she's trying to keep up with two energetic girls and her husband, and dreaming of the mountains of Montana.
You can find and contact Summer Wier here: