Review: Poison Study by Maria V. Snyder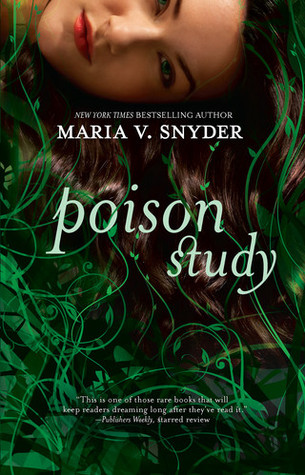 Choose: A quick death…Or slow poison...

About to be executed for murder, Yelena is offered an extraordinary reprieve. She'll eat the best meals, have rooms in the palace—and risk assassination by anyone trying to kill the Commander of Ixia.

And so Yelena chooses to become a food taster. But the chief of security, leaving nothing to chance, deliberately feeds her Butterfly's Dust—and only by appearing for her daily antidote will she delay an agonizing death from the poison.

As Yelena tries to escape her new dilemma, disasters keep mounting. Rebels plot to seize Ixia and Yelena develops magical powers she can't control. Her life is threatened again and choices must be made. But this time the outcomes aren't so clear...
Review
This book was great. I was hooked with the great characters, action, and the interesting government system. In this book we follow Yelena, who is in prison for killing one of the Generals' sons. Reyad, General Brazell's son, to be exact. Before Yelena is executed, she gets an offer, to escape execution, and to live in the Commander's palace. One catch, she has to take the job title of "Poison Tester". Which means that she has to taste the Commander's food to make sure that it isn't poisoned. Along with that, General Brazell is looking for revenge, and he is not about to give up easily.
I did find this book hard to get into. I was getting the main story, but the background confused me. We start the book with Yelena getting her new job, but the situation was really confusing. I had no idea who she killed, how the government worked, or why anything was happening. I eventually figured everything out, but I think that the book needed a prologue. Something that explained how the government worked, or how the Commander came to be in charge. Something like that I think would have been really nice.
I adored Yelena. I loved how she was not whiny; she took what she had and ran with it. She never just sat around, she was proactive; which helped her in the end. I also really liked Ari and Janco. They reminded me of the Wesley twins. The older brothers who make fun and pick on you, but they always have your back when you need them. I have a unhappy feeling though that one of the two is going to turn into a love interest. I may be sensing a triangle, or even a square. Wouldn't that be painful?
I wish that we got to see more of the magic in this book. We got a to see a little bit of it, but I wanted to see more! From what we saw of the magic though looks really promising. I loved the idea of the blanket; how you wanted to take a string out of that blanket, and not pull the whole thing. I believe in the next book we get to see more of the magic, and I can't wait.
Overall, this was a fun, fast paced book that got a little confusing at times. With a strong main character and lovable side characters, I will definitely be picking up the second book.
I loved this book, but it's not a new favorite.