Splintered by A.G. Howard (Book Review)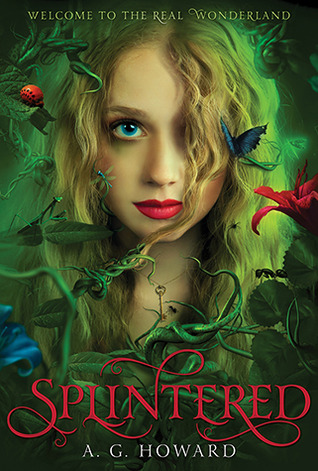 Alyssa Gardner hears the whispers of bugs and flowers—precisely the affliction that landed her mother in a mental hospital years before. This family curse stretches back to her ancestor Alice Liddell, the real-life inspiration for Lewis Carroll's Alice's Adventures in Wonderland. Alyssa might be crazy, but she manages to keep it together. For now.

When her mother's mental health takes a turn for the worse, Alyssa learns that what she thought was fiction is based in terrifying reality. The real Wonderland is a place far darker and more twisted than Lewis Carroll ever let on. There, Alyssa must pass a series of tests, including draining an ocean of Alice's tears, waking the slumbering tea party, and subduing a vicious bandersnatch, to fix Alice's mistakes and save her family. She must also decide whom to trust: Jeb, her gorgeous best friend and secret crush, or the sexy but suspicious Morpheus, her guide through Wonderland, who may have dark motives of his own.
OMG! OMG! OMG! That was so good! This was a brilliant idea of a book! A crazy Alice in Wonderland? I think that I just died from happiness. The world that A.G. Howard created is so cool, mysterious, and mad that you instantly fall in love with it. The way she wrote the book had so much action and suspense that it kept me yearning for more.
The world in this book is really cool! Imagine a messes up Alice in Wonderland, but double that. Welcome to Wonderland folks! Everything was just so… mad. The cool thing is that we get to meet characters from the original book, but also some that are not. Yes, we meet the Mad Hatter and the White Rabbit, but we also get to meet some other characters like Humpty Dumpty.

I think that that brings a really nice twist to the story, and I can't wait to explore it more in the next book!
My only problem with this book was that I found myself lost a couple of times in the middle. It was almost as if there was a little too much madness going on, and my brain could not wrap itself around it. For no reason what so ever, I would find myself lost, and I would have to go back a re-read that page because I had no idea what was going on.
Let us talk about the romance now shall we? For the sake of trying to be a decent person, I will refer to the two love interests as J and M, to keep their identities a secret for those who have not read the book. You know who these people are if you have. Now, usually in these situations I can easily say who I like better and who I want the person, in this case Alyssa, to end up with. I am not sure though in this case! I really like them both! I don't want to root for either of them because I equally like them both!
I want to talk a little about the magic. I found a bunch of different types in this book. There were fairies, portals, and even wings! I really like how the author took these ideas, and made them her own. sometimes magic can get a little old with the same ideas getting used over and over again, but A.G. Howard really made the magic in this book unique.
Overall, this was a fun, fast paced book that kept me turning the pages. With a fun, mad world, a strong lead protagonist, and romance that you don't hate, I highly recommend. I will definitely be picking up the next book in the series very soon.