Book Review: A Study in Charlotte by Brittany Cavallaro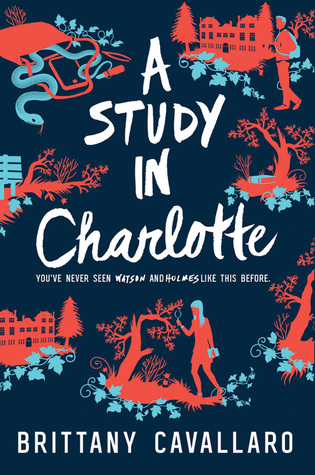 Book: A Study in Charlotte (Charlotte Holmes #1)
Author: Brittany Cavallaro
Published: March 1, 2016
Publisher: Katherine Tegen Books
Number of Pages: 321
Format: Hardcover
Source: Library
Rating: 3.5 Stars
Tags:
Mystery, Retelling, YA,

#COYER
Goodreads/Amazon/Barnes & Noble
Synopsis:
The last thing Jamie Watson wants is a rugby scholarship to Sherringford, a Connecticut prep school just an hour away from his estranged father. But that's not the only complication: Sherringford is also home to Charlotte Holmes, the famous detective's great-great-great-granddaughter, who has inherited not only Sherlock's genius but also his volatile temperament. From everything Jamie has heard about Charlotte, it seems safer to admire her from afar.
From the moment they meet, there's a tense energy between them, and they seem more destined to be rivals than anything else. But when a Sherringford student dies under suspicious circumstances, ripped straight from the most terrifying of the Sherlock Holmes stories, Jamie can no longer afford to keep his distance. Jamie and Charlotte are being framed for murder, and only Charlotte can clear their names. But danger is mounting and nowhere is safe—and the only people they can trust are each other.
"but my family's business was never in maintaining mysteries. it's in unraveling them.
"
I have never read the original Holmes and Watson books, but when my brother said that we were going to watch the TV show when he visits, I just had to read this one. I am a completely new to Sherlock Holmes, but I did enjoy this book.
In this book we follow Charlotte Holmes and Jamie Watson, who are the descendants of Sherlock Holmes and James Watson. They go to the same high school, and they get into some trouble. They are the main suspects when a fellow student is murdered, and they may be the only ones to can solve the case.
I enjoyed reading from Jamie's POV. I did think that it was annoying during the beginning of the book that he was always thinking about Charlotte, and how he would do anything for her. I know that he had thought about her his whole life, but it got old after a while. I don't know how I was suppose to feel about Charlotte because I think that she was so mainly based on the original Sherlock. I didn't like her, and I thought that she treated Jamie poorly.
I did enjoy the mystery, and I thought that it was well thought out. Though it was kind of cheesy to use the original books. Also, I thought that the pacing was a little slow at times. I wish that there was less of the school things (dances, homework, classes), and more mystery solving. There were these gaps in the story where noting was being done except school work, and I wish that they were replaced with mystery solving.
Overall I liked this book! I thought that the mystery was fascinating, though I wish that there was more of it. I really enjoyed Jamie's character, though I didn't like Charlotte. I will be reading the next book though because I want to know how everything ends!