Book Review: Love Letters to the Dead by Ava Dellaria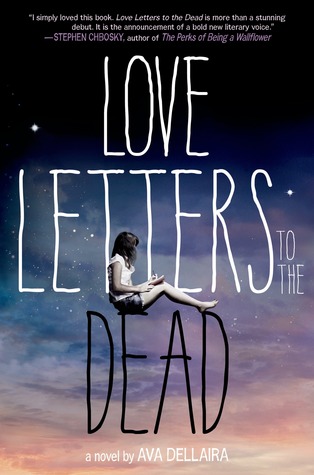 It begins as an assignment for English class: Write a letter to a dead person.
Laurel chooses Kurt Cobain because her sister, May, loved him. And he died young, just like May. Soon, Laurel has a notebook full of letters to the dead—to people like Janis Joplin, Heath Ledger, Amelia Earhart, and Amy Winehouse—though she never gives a single one of them to her teacher. She writes about starting high school, navigating the choppy waters of new friendships, learning to live with her splintering family, falling in love for the first time, and, most important, trying to grieve for May. But how do you mourn for someone you haven't forgiven?

It's not until Laurel has written the truth about what happened to herself that she can finally accept what happened to May. And only when Laurel has begun to see her sister as the person she was—lovely and amazing and deeply flawed—can she truly start to discover her own path.

In a voice that's as lyrical and as true as a favorite song, Ava Dellaira writes about one girl's journey through life's challenges with a haunting and often heartbreaking beauty.
I went into this book kind of weary, but came out of this book loving it. In this book we follow Laurel, as she goes through her Freshman year of high school. We get to see her make new friends, fall in love for the first time, and grieve her sister's death. The cool thing about this book is that it is told through letters that Laurel writes to dead actors, singers, and writers. This book made me smile, cry, and deeply care for Laurel and her friends.
I saw that some people didn't really enjoy the book

, and I think that I know why.
I feel like if you couldn't connect with Laurel, it would be harder to enjoy the book. I think that you had to have at least one thing in common with her, weather it is going to a new school, or having a sibling who died. I think that that is what made the story so heartbreaking

, and gut-wrenching to read.
I have never enjoyed reading

poetry

in books. I find it boring and not necessary most of the time, but I really enjoyed it in this book. I feel like the poetry really helped set the

mood

, and tone of the book. I doubt that the book would have been the same without th

e poetry.
I felt so bad for Laurel and her friends! I just wanted to pull the all out of the book and give them giant hugs. All of their situations were so different and unique, that they were all able to really bond and stick up for each other. It was really heart warming that while they were all going through really tough times, th

ey stuck up for each other.
I really enjoyed Sky and Laurel's relationship. It was very real. It was like a real high school relationship, and I think that made the book even better. Usually with books like this, there is a major insta

love, and the relationship is unrealistic. This book was just so realistic, and that made me

care for the characters even more.
Overall, this was a beautifully written, gut wrenching book. I loved caring for the characters as they navigated their freshman year of high school. I highly recommend this book

.

This book does talk about some serious topics though, so trigger warning for abuse, sexual

assault

, and

suicide

.