Book Review: Five Reasons Why I Need the Fifth Book in the Throne of Glass Series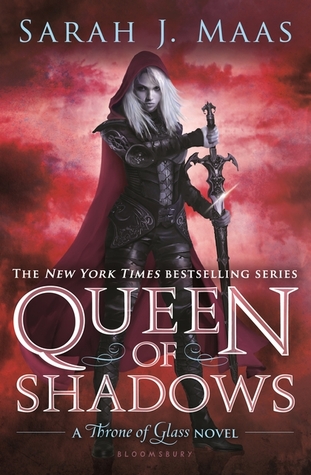 The queen has returned.

Everyone Celaena Sardothien loves has been taken from her. But she's at last returned to the empire—for vengeance, to rescue her once-glorious kingdom, and to confront the shadows of her past…

She has embraced her identity as Aelin Galathynius, Queen of Terrasen. But before she can reclaim her throne, she must fight.

She will fight for her cousin, a warrior prepared to die for her. She will fight for her friend, a young man trapped in an unspeakable prison. And she will fight for her people, enslaved to a brutal king and awaiting their lost queen's triumphant return.

The fourth volume in the New York Times bestselling series contrinues Celaena's epic journey and builds to a passionate, agonizing crescendo that might just shatter her world.
*
There will be spoilers for all the books in this series (including Queen of Shadows). Follow with caution.*
1.)Rowan-
I love Rowan. He is one of my favorite characters in the series, and I just cannot wait to read more of him! He is so loyal, nice, and he has

n

ot made any stupid decisions! I cannot wait to see where his and Aelin's relationship goes (I ship Rowan and Aelin by the way).
2.)She's Home-
I am really excited to see how Aelin rules her kingdom! I can't wait to see how her and Dorian work together to defeat the Valg, and if they end up together (I'm still shipping Rowan and Aelin).
3.)Lysandra-
I was really surprised when Lysandra turned out to be a shape-shifter! I hope in the next book that we get to see more of Lysandra, and how she shape-shifts. I feel like she will be a big part in the upcoming war, and I can't wait to see more of her in action.
4.)
More Manon (and Witches in general)-
In Heir of Fire, I didn't really like the chapters on Manon. I was more worried about Aelin, and I did not want to read about Manon. I really enjoyed Manon in this book though. We get to learn more about her thirteen and see a kinder side of Manan. I can't wait to see where she comes into play in the next book.
5.)The Fae-
Now that Aelin is back in her homeland, we are going to get to see more of the Fae. I hope that we get to see more of the Fae's magic abilities, but me being me, I know that I will be perfectly happy with anything. :)