Book Review: Everything, Everything by Nicola Yoon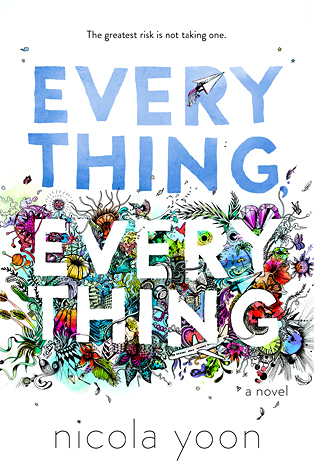 My disease is as rare as it is famous. Basically, I'm allergic to the world. I don't leave my house, have not left my house in seventeen years. The only people I ever see are my mom and my nurse, Carla.

But then one day, a moving truck arrives next door. I look out my window, and I see him. He's tall, lean and wearing all black—black T-shirt, black jeans, black sneakers, and a black knit cap that covers his hair completely. He catches me looking and stares at me. I stare right back. His name is Olly.

Maybe we can't predict the future, but we can predict some things. For example, I am certainly going to fall in love with Olly. It's almost certainly going to be a disaster.
It has been about twenty four hours sense I finished this book, and I am still trying to recover from it. In this book we follow Madeline, who is allergic to the world. If she goes outside of her house, she could die at any minuet. She is perfectly content to stay in her little bubble, until she meets the new boy next door, Olly. I loved this book! There were so many great thing in this book, and it definitely lives up to the hype.
I adored Madeline. She was so easy to connect with, and she handled everything thrown at her very well. She was not whiny, or even bratty. I really enjoyed getting to see her experience love for the first time. I also really enjoyed Carla. She always gave Madeline the advice that her mom wouldn't give her. I also feel like she was a second mom to Madeline, even though she had a daughter back home.
I feel like the relationship between Olly and Madeline was very real. It wasn't insta-love, and it was paced very well. As the story goes on, you start to care more, and more. I really did want them to be together throughout the book.
I was really surprised by the ending of this book! I honestly did not see it coming, and I wish that the book was a little longer because of it. I want to know how Madeline ends up! What happens to her? I know that we kind of got that, but I just want to know more!
Overall, I loved this book! I really cared for the characters, and was really pleased with the romance. This book is definitely worth your time.
5/5 Points
I loved this book! A new favorite.