Tiger's Voyage by Colleen Houck (Book Review)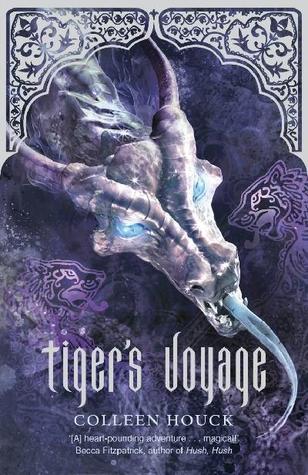 With the head-to-head battle against the villainous Lokesh behind her, Kelsey confronts a new heartbreak: in the wake of his traumatic experience, her beloved Ren no longer remembers who she is. As the trio continues their quest by challenging five cunning and duplicitous dragons, Ren and Kishan once more vie for her affections--leaving Kelsey more confused than ever.
*WARNING! THIS IS BOOK THREE IN A SERIES! THERE WILL BE SPOILERS FOR THE FIRST TWO BOOKS!*
Stuff went down, hard. I thought that the second book was crazy and out of this world, and beautiful, but this was a majestic brick. So much happened, and just left me so excited to read the final book. In this book, Kelsey and her two tiger friends are on the quest for another of Durga's gifts, and has you may have guessed, things get chaotic. This was such a fun book that I blew right through, an excellent addition to this great series.
I think it is time to talk about something in the shape of a triangle. The one thing that annoyed me in this book, the love triangle. So, Ren or Kishan? I think it is pretty obvious who Kelsey wants to be with, and a good part of this book I felt she was just making herself sad. Wouldn't everything just be so much better if she chose to be as happy as she could be?
Now, there was a lot of action trying to get Durga's gift, but lets not forget about Lokesh. I really want to know how he plays out in this series, because it seems like he is more of a background problem. I think that he will come back to bite them in the butt, in a big way. What is his real motive? What do you think?
Overall, I can not wait to pick up the next book and see what happens next.