The Copper Gauntlet by Holly Black and Cassandra Clare (Book Review)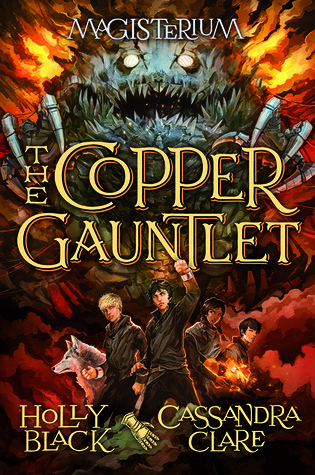 Callum Hunt's summer break isn't like other kids'. His closest companion is a Chaos-ridden wolf, Havoc. His father suspects him of being secretly evil. And, of course, most kids aren't heading back to the magical world of the Magisterium in the fall.

It's not easy for Call . . . and it gets even harder after he checks out his basement and discovers that his dad might be trying to destroy both him and Havoc.

Call escapes to the Magisterium -- but things only intensify there. The Alkahest -- a copper gauntlet capable of separating certain magicians from their magic -- has been stolen. And in their search to discover the culprit, Call and his friends Aaron and Tamara awaken the attention of some very dangerous foes -- and get closer to an even more dangerous truth.

As the mysteries of the Magisterium deepen and widen, bestselling authors Holly Black and Cassandra Clare take readers on an extraordinary journey through one boy's conflict -- and a whole world's fate.
*THIS IS BOOK TWO IN A SERIES. THERE MAY BE SPOILERS FOR THE FIRST BOOK. LINK TO THE FIRST BOOK AT THE END OF THE POST.*
*Does happy dance* I am really excited of you can't tell. I mean, you take two great YA authors and have them write a book series, greatness is bound to happen. This book series is so fun with all of the magic, lovable characters, and twists and turns that you instantly love it. The only thing that I don't like is that I have to wait until 2016 to read the next book!
I really like where this series is going! This series could do so many things and go in so many different directions, and I can't see a bad option! I am just so excited!
The character's are so fun in this book. Call and Havoc are my favorites though. They are the dynamic duo, they also had some of the funniest lines of the whole book. One thing that I found really refreshing was that Call was not afraid to say what was on his mind. I feel like that is something you don't see all the time in books so it was nice to see Call with that trait.
The magic in this book is so cool! I mean, just the idea of using the different elements for magic, and each of them having a counter. It makes sense! One thing that can be hard with magic books is that the magic element can get confusing. So with the magic making sense, it just makes this book even better.
Overall, this is a fun book with lovable characters, awesome adventures, and epic magic. I will defiantly be picking up the next book!