Tiger's Curse by Colleen Houck (Book Review)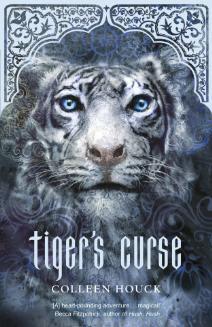 The last thing Kelsey Hayes thought she'd be doing this summer was trying to break a 300-year-old Indian curse. With a mysterious white tiger named Ren. Halfway around the world. But that's exactly what happened. Face-to-face with dark forces, spellbinding magic, and mystical worlds where nothing is what it seems, Kelsey risks everything to piece together an ancient prophecy that could break the curse forever.

Tiger's Curse is the exciting first volume in an epic fantasy-romance that will leave you breathless and yearning for more.
Amazon
/ Goodreads
I'm not the biggest fan of fantasy, but this book, was majestic. I loved this book. I have always loved big cats. I think that they are beautiful animals that I can't help but love. So mix that with awesome fantasy, and India, you have a new favorite. In this book we follow Kelsey, and it is the summer before she starts collage. So she gets a job at the circus, sounds fun right? Well that all changes when she gets the opportunity of a life time.
I love the idea of this story, and the author, Colleen, played it out beautifully. There was never a dull moment in this book, and I was grabbed from the first page. There were so many twists and turns that I had no idea what would be coming next.
Even though I thought that Kelsey could be a little whinny at times, there was always so much action, romance, and everything came together at the end, beautifully, and majestically.
A new favorite/ go read this book now!
Overall, this was a fun fast paced book that I highly recommend. I actually just started book two and I am already loving it. A review for that book will deffently be comming soon! :)