Review: A Court of Mist and Fury by Sarah J. Maas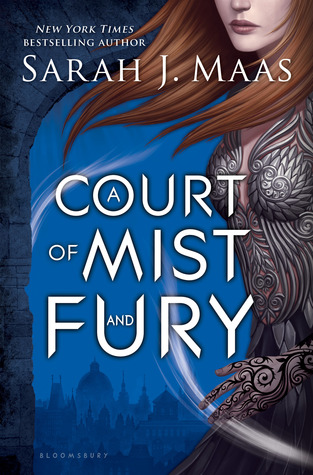 Book:
A Court of Mist and Fury (A Court of Thorns and Roses #2)
Author:
Sarah J. Maas
Published:
May 3, 2016
Publisher:
Bloomsbury
Number of Pages:
624
Format:
Hardcover
Source:
Library
Rating:
4.5 Stars
Tags:
YA, Retelling, 4.5 Stars, Majestic Brick, Romance, Fantasy,

Favorite
Goodreads
/
Amazon
Synopsis:
Feyre survived Amarantha's clutches to return to the Spring Court—but at a steep cost. Though she now has the powers of the High Fae, her heart remains human, and it can't forget the terrible deeds she performed to save Tamlin's people.

Nor has Feyre forgotten her bargain with Rhysand, High Lord of the feared Night Court. As Feyre navigates its dark web of politics, passion, and dazzling power, a greater evil looms—and she might be key to stopping it. But only if she can harness her harrowing gifts, heal her fractured soul, and decide how she wishes to shape her future—and the future of a world torn apart.
"And this,' I breathed, leaning close to say the words into its ear, into its rotted soul. I slid my dagger in a third time, relishing the splintering of bones and flesh. 'This is for me."
*Please note that spoilers in this review are written in red.*
This book gave me a pretty big book hangover, and now I don't know what to do until book three is released. Sarah J. Maas's books always do this to me, and yet I never learn. This has turned into one of my

favorite series

, with one of my

favorite couples

. I am so glad that there are going to be six books.
In this book we follow Feyre, as she plans her future life with Tamlin (BOOOOO) after everything that happened under the mountain. There is a ton of things that happen in this book, and they all make this book o much better than the first.
Can we just talk about Feyre's character development? IT WAS SO GOOD! She was naturally scarred by what happened to her under the mountain, and who wouldn't be! She was beaten, hunted by a giant worm, almost killed her friend, had to kill two innocent beings, was killed, and was then brought back to life as a Fae.
Ya, I would call that a

traumatic event

. And I was so pissed at Tamlim because he did nothing. He just acted on like

everything was normal

, and pushed these activities onto her that she didn't want to do. She needed someone to be there for her, and he wasn't. That's when Rhysland comes in, and I just loved him in this book!

He was really the friend and mate that she needed.
Throughout what happens in the book, Feyre just keeps getting

stronger and stronger

. I love who she becomes at the end of the book, and I can't wait to see her

conquer on

.
In this book we get to see a lot more of the Night Court because of the deal that Feyre and Rhysland made, and I have to say that

I really like the Night Court

. It was nice to explore into the other courts, and even venture into the human realm. Of course with the new settings, we meet some new
characters.
I loved all of them.
I hope that they're all okay!
I can't wait to read more about them in book two.
I know that the second book in a series tends to drag, but that isn't the case with this book. There was always something new happening, or something that had me pacing around my room. I mainly paced because

I loved the characters in this book

, and I didn't want them to get hurt! Now, let me gush about Rhysland because he is just the best.
I loved how he treated Feyre as his equal, not anyone below him. Even when they became mates, he always respected her. Usually there is a love triangle element in these types of books, but there can't be one here. There just can't be. The relationship is just too strong, and she is a High Lady of the Night Court now. I am interested to see how everything works out with her in the Spring Court again.
Needless to say, I am very happy with Feyre and Rhysland.
Do I know where the story will go from here? No.

But I do have some theories

.
I think that Feyre will be back in the Night Court by the end of book three, and I think that Lucien is going to go with her. Right now Lucien is a HUGE problem. He just lost his mate, after seeing her for I think a grand total of five minutes. I think that Lucien will go wherever Elain is, Elain will go wherever Nesta is, Nesta will go wherever Feyre says that she will be, Feyre will go wherever Rhys is, and Rhys will go wherever he is needed. This will leave a very unhappy Tamlin, and I think that he will become the finial enemy. Oh, and I think that Nesta and Cassian will be a couple. I'm not sure if they will be mates, but I do think that they will be a couple.
That's my theory as of right now, but I'm sure that that it's wrong.
So overall I loved this book! It's a Sarah J. Maas book, did you

expect anything else

? ;)