Book Review: A Shadow Bright and Burning by Jessica Cluess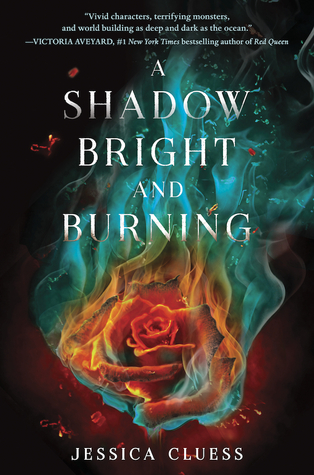 Book: A Shadow Bright and Burning (Kingdom on Fire #1)
Author: Jessica Cluess
Published: September 20, 2016
Publisher: Random House
Number of Pages: 416
Format: ebook (.mobi)
Source:
Received via NetGalley in exchange for an honest review.
Rating: 4 Stars
Tags:
YA, Fantasy, ARC, 4 Stars, Historical Fiction,

#COYER
Goodreads/Amazon
Synopsis:
I am Henrietta Howel.
The first female sorcerer in hundreds of years.
The prophesied one.
Or am I?

Henrietta Howel can burst into flames.
Forced to reveal her power to save a friend, she's shocked when instead of being executed, she's invited to train as one of Her Majesty's royal sorcerers.

Thrust into the glamour of Victorian London, Henrietta is declared the chosen one, the girl who will defeat the Ancients, bloodthirsty demons terrorizing humanity. She also meets her fellow sorcerer trainees, handsome young men eager to test her power and her heart. One will challenge her. One will fight for her. One will betray her.

But Henrietta Howel is not the chosen one.
As she plays a dangerous game of deception, she discovers that the sorcerers have their own secrets to protect. With battle looming, what does it mean to not be the one? And how much will she risk to save the city—and the one she loves?
"You should've given it a grand name. What'll it say in the history books? Miss Howel, the savior of England, and her stave, Porridge?"
This book was really epic! This is a really strong start to a fantasy series, and I cannot wait to read more about Nettie, the boys, and of course the magic! Because there is a lot to get done in Victorian England, and I can't wait to see it get accomplished.
In this book we follow Nettie as she gets taken in to train as a sorcerer, and is seen as the prophesied one. One tiny problem, she's not the chosen one; she's not even a sorcerer. Instead she's a magician, and she's playing a deadly game of trying to keep everyone in the dark. Including her best friend, Rook.
While it took me a couple chapters, I loved Nettie. She is strong, knows what she wants, and gets stuff done. I also loved how she wasn't afraid to challenge any of the guys! I especially liked the scene where she was challenging Blackwood on the different classes. I just kept shouting, "You go girl!" I also really appreciated the scene where she was fighting in pants and boots and she was like THIS IS GREAT! I WANT TO DO THIS ALL THE TIME!
I feel like so many fantasy books have the common theme of "the chosen one," so it was nice that Nettie wasn't! It was a nice change, and I feel like the author did a good job at making her a really strong character, while also not fitting the chosen one standards.
I usually don't like the historical fiction aspect in books, but I really liked it in this one! I wish that there was some more of it. I feel like the only way it really effected the story was through the sexism, the clothing, transportation, and the the different classes. So, I wish that we go to explore Victorian London a little bit more.
So overall I loved this book! With an excellent main character, demons, and some pretty excellent magic skills, I highly recommend this book. Be prepared for lots of magic, secrets, and arguments that will make your inner feminist jump with joy.