Book Review: Winterspell by Claire Legrand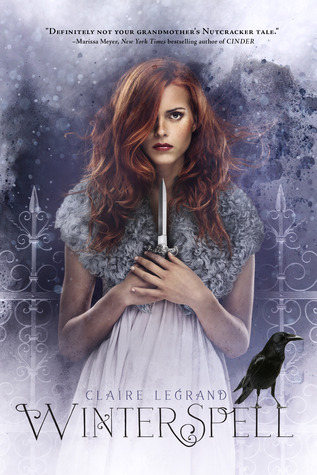 The clock chimes midnight, a curse breaks, and a girl meets a prince…but what follows is not all sweetness and sugarplums.

New York City, 1899. Clara Stole, the mayor's ever-proper daughter, leads a double life. Since her mother's murder, she has secretly trained in self-defense with the mysterious Drosselmeyer.

Then, on Christmas Eve, disaster strikes.

Her home is destroyed, her father abducted—by beings distinctly not human. To find him, Clara journeys to the war-ravaged land of Cane. Her only companion is the dethroned prince Nicholas, bound by a wicked curse. If they're to survive, Clara has no choice but to trust him, but his haunted eyes burn with secrets—and a need she can't define. With the dangerous, seductive faery queen Anise hunting them, Clara soon realizes she won't leave Cane unscathed—if she leaves at all.

Inspired by The Nutcracker, Winterspell is a dark, timeless fairy tale about love and war, longing and loneliness, and a girl who must learn to live without fear.
When I was around five years old, I was in my first performance of The Nutcracker. Yep, I used to be a ballet dancer. I was in a production of The Nutcracker almost every year I danced. I was a Bonbon, a party girl, a flute girl, one of Clara's friends, a snowflake, and a Spanish dancer. So, yes, that a lot of times I danced in The Nutcracker. So, it was really cool to read a twist on a big part of my child hood.
In this book we follow Clara, as she tries to save her father because he was kidnapped by some sort of magical creature. So she follows her father with a new found friend, and may just get caught in a revolution. So, just your average, normal teenage Christmas.
I liked almost all of the characters in this book! I especially loved Anise. I always hear about book lover's favorite bad guys. Well, I didn't have anyone on my list. Well, now I do. I thought that Anise was an amazing character, and I wanted her to be the good guy! Then theirs Nicholas,

who I didn't like as much. He was fine, but I just couldn't get over some things that he did.
I really liked the world of Cane! I thought that the legends of Cane were cool, and also how the royalty is connected to the land. I loved how

the royalty were in, almost a partnership with the land.
Overall, I loved this book! I liked most of the characters, and the

world

building. With an awesome land and

powerful

magic, I highly

recommend this book.