Book Review: Bloodlines by Richelle Mead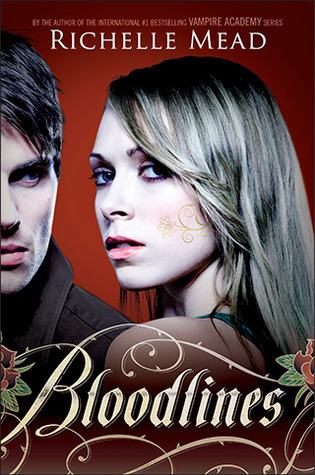 Book:
Bloodlines (Bloodlines #1)
Author:
Richelle Mead
Published:
August 23, 2011
Publisher:
Penguin Group
Number of Pages:
421
Format:
Hardcover
Source:
Library
Rating:
3.5 Stars
Tags:
YA, 3.5 Stars,

Read in 2016
Goodreads/Amazon
Synopsis:
I wasn't free of my past, not yet.

Sydney's blood is special. That's because she's an alchemist - one of a group of humans who dabble in magic and serve to bridge the worlds of humans and vampires. They protect vampire secrets - and human lives. But the last encounter Sydney had with vampires got her in deep trouble with the other alchemists. And now with her allegiences in question, her future is on the line.

When Sydney is torn from her bed in the middle of the night, at first she thinks she's still being punished for her complicated alliance with dhampir Rose Hathaway. But what unfolds is far worse. Jill Dragomir - the sister of Moroi Queen Lissa Dragomir - is in mortal danger, and the Moroi must send her into hiding. To avoid a civil war, Sydney is called upon to act as Jill's guardian and protector, posing as her roommate in the unlikeliest of places: a human boarding school in Palm Springs, California. The last thing Sydney wants is to be accused of sympathizing with vampires. And now she has to live with one.

The Moroi court believe Jill and Sydney will be safe at Amberwood Prep, but threats, distractions, and forbidden romance lurk both outside - and within - the school grounds. Now that they're in hiding, the drama is only just beginning.
-MY REVIEW-
"But listen to me when I say this. You are an exceptional, talented, and brilliant young woman. Do not ever let anyone make you feel like you're less."
I read the Vampire Academy series a while ago, and to be honest I don't remember a ton about it. Sure I remember the big details, but I have no recollection of the tiny details. This is one of the reasons I waited so long to read this spin-off series. I thought that I wouldn't remember enough to make the book fun for me to read. Well, I was wrong.
In this book we follow Sydney, an Alchemist who was introduced in the Vampire Academy series. At the beginning of this book Sydney is on bad terms with the Alchemists, and so she volunteers to stay with Jill, Lissa's sister and last living relative, at a boarding school in Palm Springs. Sydney is going to be helping Jill through life there, but she is also going to help protect her from a group of assassins who will stop at nothing to kill her.
I found that a lot of people didn't like Sydney as much as Rose, and that's why they didn't like the book as much. I actually liked Sydney more than Rose! Rose was so out going (and so not like my self), which isn't bad! I just thought that it was nice that I could relate to Sydney more! Also, I really liked how she really thought things through. She saw the world in facts and equations, and I loved it. I cannot wait to read more from her voice.
I also really liked how Sydney wasn't perfect. She was confused, and didn't always know what to do. She was still pretty bad-ass though (even though she couldn't outright fight). It is nice to see a main character rely on their mind and not always their strength.
While I loved Sydney, I couldn't really find anything special about the rest of the characters. So, I wish that there was a little more development in the secondary characters. Also, I wish that a little bit more happened in the story. While there is a lot of development in the story, I just felt like it was missing something. But I am super excited to see what happens next in the series.
So over all I really liked this book! I loved getting to know Sydney, and that was the highlight of the book for me. It was nice to see some old faces, and I'm excited to see what happens next in the story!