Book Review: Girl Last Seen by Heather Anastasiu & Anne Greenwood Brown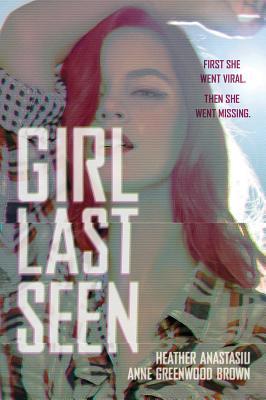 Kadence Mulligan's star was rising. She and her best friend, Lauren DeSanto, watched their songs go viral on YouTube, then she launched a solo career when a nasty throat infection paralyzed Lauren's vocal chords. Everyone knows Lauren and Kadence had a major falling-out over Kady's boyfriend. But Lauren knows how deceptive Kadence could be sometimes. And nobody believes Lauren when she claims she had nothing to do with the disappearance. Or the blood evidence As the town and local media condemns Lauren, she realizes the only way to clear her name is to discover the truth herself. Lauren slowly unravels the twisted life of Kadence Mulligan and sees that there was more to her than she ever knew. But will she realize she's unknowingly playing a part in an elaborate game to cover up a crime before it's too late?
*My thanks to Albert Whitman & Company for providing me an ebook copy of this book via NetGalley. All opinions in the this review are my own.*
Wow. Just, wow. I honestly don't want to write a big review for this book because I think that it is a good book to go into blind with. I'm sitting here typing this, and I'm trying to think of how I am going to write this review without spoiling it. Well, ready or not here it goes.
In this book we follow different teenagers through, probably the most stressful and scary weeks of their lives. We follow, Lauren, one half of a YouTube singing group, and who can't sing anymore; Jude, a mad teenager on a mission; Mason, Kadence's boyfriend and star hockey player at their high school. That's when things get crazy. What I didn't tell you guys was that you also read about videos of Kadence, who has just gone missing. The thing is, Lauren, Jude, and Mason are connected to Kadence in different ways. In this book, we get to see the process from before Kadence went missing, all the way to the end.
Let's talk about the characters. I really liked Lauren. We had quite a few things in common! We were both book nerds at heart, both liked music, and both didn't like people. I was really able to connect with her, and it made the story that much better for me. For Jude *types madly then erases everything due to spoilers*. Without spoilers, I really liked him. That's all I got without spoilers. I didn't really like Mason. Don't get me wrong! He wasn't bad, there just wasn't enough development in his character to really like him like Lauren and Jude. I'm just not even going to talk about Kadence because I'm not sure how to fully write a sentence about her without spoiling something.
The thing that I liked most about this book was that I was able to guess what was going to happen. Now you may be saying to yourself right now, "Anna! Why did you like the story so much if you could tell what was going to happen?" Well, I'm going to tell you that right now person who is reading my review! It's because I didn't see it coming. Really confusing but let me explain. Yes, I was able to see what the main twist would be, but I got surprised by all of the tiny twists. You see, while you read about the characters and the main plot line, there are other mysteries and problems that pop up. So while I may not have been take surprise by the main mystery, all of the tiny ones that go along with it made me sit in my chair with my mouth hanging open.
I kind of want to briefly talk about the romance. Yes, there was romance. The thing about it through was that it didn't over power the story. I actually though that it went very nicely with the story. It was logical (in most cases), and it was very sweet.
Overall, I loved this book! I was really able to connect with Lauren which was really nice. It was filled with suspense, mystery, some scary, and even sad moments in some places. I highly recommend this book.