Book Review: Destiny by India R. Adams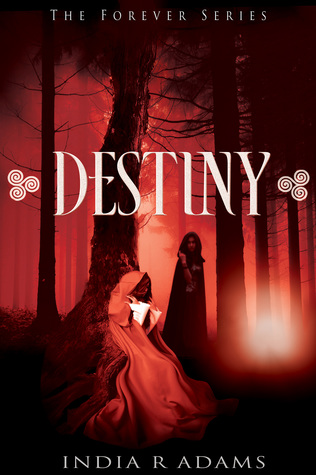 Book:
Destiny (The Forever Series #2)
Author:
India R. Adams
Published:
May 16, 2017
Publisher:
India's Productions
Number of Pages:
393
Format:
ebook
Source:
I received a copy of this book from the author in exchange for an honest, and unbiased review.
Rating:
4.5 Stars
Tags:
YA, ARC, Romance, Cry Baby, Received for Review
Goodreads
/
Amazon
Synopsis:
The phenomenal connection between Serenity and country music star Destiny Crowe cannot be denied. But will they have the chance to learn what this connection is about when dealing with unexplained interferences? Can they handle the pressure, discovering more about who and what they are? Because the more the two women are together, the more things start happening, for better and worse.

The brighter they shine, the more they are seen.
The more they are seen, the more other energies notice… and try to interfere with fate.

In this second novel of the Forever series, destiny will be tested, darkness will be tempted, and love will show its truest form.
-MY REVIEW-
"Serenity"—Dereck kisses me as he gently lays me back on our bed, moving his body over mine—"if I fail, if I lose you, will I see you"—he chokes on the painful words—"again?"
My throat tightens, fully understanding his fears. He has lost me in every lifetime I can remember. I softly reply with my open heart, "Dereck, you will see me in the future, the present, the past. For everything, including you and me, is as one."
So, I've actually had this book read for a while now, but because of the past couple of weeks being crappy, it never got written. So, here I am! I made it! I'm late, but I'm here. I actually started rereading this a couple days after I finished (the beginning of the crappy weeks), and I had to stop myself. Because it was obviously way to early to be rereading it. You need to wait at least a week.
Oh, and this book didn't kick me into a pit of alligators this time! No, it was a pit of rabid hyenas. So, I guess that we improved?
This book takes place about a year after we left our favorite characters in the first book. All of the gang is in college (well, almost all of them, sorry Sky), and Dereck is working on his music career. Meanwhile, Destiny is helping Dereck, while her husband tries to protect her. This book starts to transition into the paranormal aspect of the series, while still keeping the drama and humor of an Adams's book.
To be completely honest, I was terrified of this book. Mainly because I knew that we would have Destiny's POV, along with Serenity's. And I know exactly why this terrified me. It's because I was scared of loosing Serenity. I didn't know Destiny! Serenity is my main girl, and always will be, but after reading one chapter from Destiny's POV I was completely in love with her. This doesn't mean that you can get rid of my Serenity though! I'm expecting at least half of the next book to be from her POV so that I can get my Serenity fix.
"The cell hits the floor as I run to the couch, retrieving the book I grabbed off Faith's bookshelf earlier- to strengthen my cover- and I sit, acting as if I'm relaxed, reading. My eyes bug out of my head when I realize this book is in Spanish."
I feel like Adam
s's is just going to pick a different couple every book, and just fuck with them. Because, Adams's, YOU SCARED ME! IT WAS SCARY! WHA, WHAT WOULD HAVE HAPPENED IF YOU HAD PULLED ANOTHER SKYLER?! YOU CAN'T KEEP DOING THIS TO MY HEART! That being said, A+ on the "Let's make Anna Cry" test. You passed.
I do wish that this book had had a bit more action. Because the event that the book was leading up to, never actually happened. This made the whole book feel like a filler book. It is crucial to the series, yet not much happened. But, I wasn't ever bored while reading this one. Figuring out what was happening, and why. Along with getting to know our new group of friendly faces (remember, boys, to always use condoms!).
So, did I like book one more than book two? Short answer, no. And I wasn't expecting to. The thing with Serenity was that I read it at the right time, and it really impacted me. Serenity will always hold a piece of my bookish heart, and it will be very hard to beat. So, was Destiny a bad book? Fuck no. Destiny was fucking majestic, but it was different that the first book. It isn't as emotional, and more mature in a way. Which is good. The writing and story telling matured with the characters, and made this book a treat to read. This book has me developing theories (mainly regarding some of the writing, one character that is no longer with us, and the phrase, "back when my human form"), and I'm very excited to see where the story advances next.
"The beast stalks the fairy
The fairy chases the light
The light seeks the heart
The heart fears the night"