Book Review: Cruel Beauty by Rosamund Hodge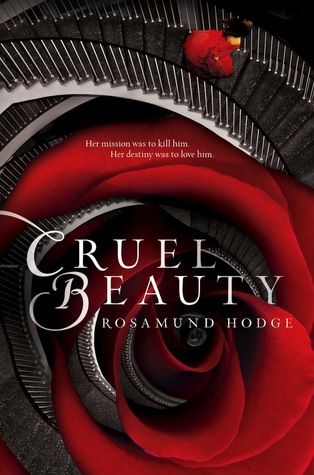 Based on the classic fairy tale Beauty and the Beast, Cruel Beauty is a dazzling love story about our deepest desires and their power to change our destiny.

Since birth, Nyx has been betrothed to the evil ruler of her kingdom-all because of a foolish bargain struck by her father. And since birth, she has been in training to kill him.

With no choice but to fulfill her duty, Nyx resents her family for never trying to save her and hates herself for wanting to escape her fate. Still, on her seventeenth birthday, Nyx abandons everything she's ever known to marry the all-powerful, immortal Ignifex. Her plan? Seduce him, destroy his enchanted castle, and break the nine-hundred-year-old curse he put on her people.

But Ignifex is not at all what Nyx expected. The strangely charming lord beguiles her, and his castle—a shifting maze of magical rooms—enthralls her.

As Nyx searches for a way to free her homeland by uncovering Ignifex's secrets, she finds herself unwillingly drawn to him. Even if she could bring herself to love her sworn enemy, how can she refuse her duty to kill him? With time running out, Nyx must decide what is more important: the future of her kingdom, or the man she was never supposed to love.

"He didn't look at me. 'Do you know why I survive the darkness, no matter how much it burns me?'
'Because you're an immortal demon lord?'
'Because I forget. I always hear a voice in the darkness, saying words that burn me alive. I survive because I always make myself forget that voice as soon as it speaks. But you, my dear Pandora-' He turned on me with a vicious smile. 'You are not half so good at forgetting. So I will have to do it for you."


So, I don't remember much about Disney's Beauty and the Beast. I remember the basics, but I don't remember much after that.That being said, this book was so much better than what I remember of the original movie. This book was dark, mysterious, and romantic all at once.
In this book we follow Nyx, as she tries to kill the beast. Otherwise know as the Gentle Lord (how ironic). So, basically the Gentle Lord is the "ruler" of demons (and suspected to be one himself), and he makes bargains with the people on her homeland (which is conveniently covered by this dome-like thing). So, Nyx's father made a deal with the Gentle Lord before she was born. He wanted his wife to become pregnant. So, his wife becomes pregnant with twin girls, and for the father's end of the bargain, he has to give one of them up for the Gentle Lord to marry when they turn seventeen. Well, you already know who got married.
My favorite part of this book was the house. I had seen some people say that it was really boring, but I though that it was exciting and cool to read about the magical house! Every

room

was different, and I was never bored. Also, the fact that she was searching for something made it more exciting in my opinion

.
I loved reading about Ny

x

and Ignifex's banters. They were just so cute! And while they were cute, N

yx

was always being sneaky, so I really enjoyed reading about her being sneaky. I almost always love books that have good banters (is that even the right word?) in them,

and this book was no different.
Something that really surprised me in this book was the

Greek

mythology! I thought that it was pretty cool that it got incorporated into the story in cool ways. On the down side, the reason why I didn't give this book five stars was because it could get confusing at times. There would be some parts where everything was making

sense

, and then it just didn't

.

If you read the book you might not have this problem, and it might just be me.

B

ut, that was th

e only thing that bugged me in this book.
Overall, I loved this book! It had great characters, a cool world, and great romance building. I highly

recommend

this book.
4/5 Points

(I loved this book!)