Book Review: 10 Things I Can See From Here by Carrie Mac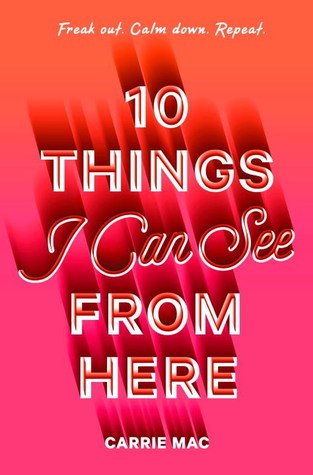 Book:
10 Things I Can See From Here
Author:
Carrie Mac
Published:
February 28, 2017
Publisher:
Alfred A. Knopf Books for Young
Number of Pages:
320
Format:
ebook
Source:
I received a copy of this book from the publisher via NetGalley in exchange for an honest, and unbiased review.
Rating:
2 Stars
Tags:
#COYER, YA, ARC, Contemporary, Mental Health
Goodreads
/
Amazon
Synopsis:
Think positive.
Don't worry; be happy.
Keep calm and carry on.

Maeve has heard it all before. She's been struggling with severe anxiety for a long time, and as much as she wishes it was something she could just talk herself out of, it's not. She constantly imagines the worst, composes obituaries in her head, and is always ready for things to fall apart. To add to her troubles, her mom—the only one who really gets what Maeve goes through—is leaving for six months, so Maeve will be sent to live with her dad in Vancouver.

Vancouver brings a slew of new worries, but Maeve finds brief moments of calm (as well as even more worries) with Salix, a local girl who doesn't seem to worry about anything. Between her dad's wavering sobriety, her very pregnant stepmom insisting on a home birth, and her bumbling courtship with Salix, this summer brings more catastrophes than even Maeve could have foreseen. Will she be able to navigate through all the chaos to be there for the people she loves?
Guys, I really wanted to like this book. I really did. But I guess that my expectations were just too high. This was a book that sounded so good on NetGalley, and I didn't actually think that I was going to be approved. So I was super excited when I was! Then I read the book and went f**k, now I have to write a negative review.
In this book we follow Maeve as she is forced to live with her father while her mom is off saving lives with her new boyfriend. Well, you could say that Maeve is less than thrilled about the move. But in Vancouver, Maeve is reunited with her brothers, and even meets Salix. Maybe this won't be as bad as she thinks that it will be.
My biggest problem with this book was it's writing. Sure, there were some sweet and important parts, but most of the book was just a bunch of mind gunk. The book is told from the first person POV of Maeve, and at first I really liked it! But it got really old, really fast. I found that the book read like a poorly written diary with just a bunch of emotions splattered on the pages. It just doesn't make a good book.
Along with the writing, the plot was also all over the place. It felt like there were three separate plots that were going on at the same time, but they never really mixed or met at the end. It was difficult to keep track of all of the plots, and trying to decipher them from the even more confusing writing.
My favorite part of this book had to be the relationship between Salix and Maeve. It was really sweet to watch their romance progress throughout the book. Also, I loved how Salix didn't try to cure Maeve. She accepted her for who she was, and I loved watching them help each other.
So overall this was an okay book. While the romance was sweet, the confusing plot and writing often took my attention away from the main focuses of the book.