Book Review #2
Her Dark Curiosity
The Madman's Daughter #2
Inspired by The Strange Case of Dr. Jekyll and Mr. Hyde, this tantalizing sequel to Megan Shepherd's gothic suspense novel The Madman's Daughter explores the hidden natures of those we love and how far we'll go to save them from themselves. Perfect for fans of Libba Bray.
Back in London after her trip to Dr. Moreau's horrific island, Juliet is rebuilding the life she once knew and trying to forget her father's legacy. But soon it's clear that someone—or something—hasn't forgotten her, as people close to Juliet start falling victim to a murderer who leaves a macabre calling card of three clawlike slashes. Has one of her father's creations also escaped the island?
Goodreads
/Amazon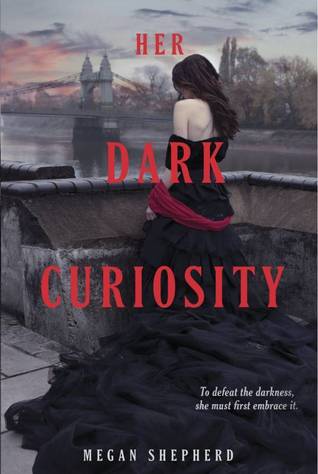 Just to preface, I am going to write a paragraph in red after this. That paragraph WILL HAVE SPOILERS!!!! Just to let you know. In regards to second book syndrome, this book was not bad. There was one major problem I had with this book. The first fourth of the book was kinda slow for me. Other than that...
Darkness: Good Amount

Suspense: yes

Romance:yes

worth reading?: If you liked the first book, yes
My Rating?
I really liked it.
OMG! Edward! I mean I suspected he was coming back from the summary. I did not think she would sleep with him! Then Montgomery came back and the love triangle came back. What ever happened just having a bunch of guy- friends and no relationship? Is it just me or are you the same. I really liked how we got to see more of the beast. Edward is really The Beast AND Edward in the same body. It is actually kinda sad because I like Edward, just not the beast. Then Montgomery came back and whoopee- do!! I like Montgomery, I want her to end up with him, but I don't think that will happen. I do think that Juliet will turn into her own version of the beast. What do you think will happen in the next book? What did you think of this book? Let me know!!