Book Review: Slasher Girls & Monster Boys by Various Authors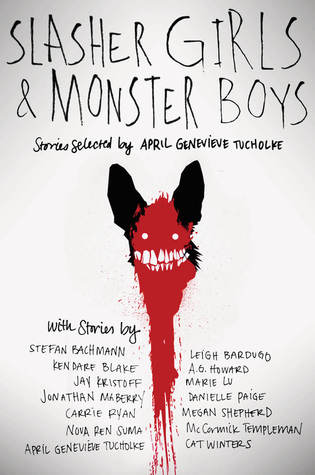 Book:
Slasher Girls & Monster Boys
Authors:
Nova Ren Suma, Carrie Ryan, Cat Winters, Leigh Bardugo, Megan Shepherd, Danielle Paige, April Genevieve Tucholke, Jonathan Maberry, Jay Kristoff, Stefan Bachmann, Marie Lu, McCormick Templeman, A.G. Howard, and Kendare Blake
Published:
August 18, 2015
Publisher:
Dial Books
Number of Pages:
393
Format:
Hardcover
Source:
Library
Average Rating:
3.18 Stars
Tags:
YA, #COYER, Thriller, Scary, Novellas, Library Book
Goodreads
/
Amazon
Synopsis:
A host of the smartest young adult authors come together in this collection of scary stories and psychological thrillers curated by Between the Devil and the Deep Blue Sea's April Genevieve Tucholke.

Each story draws from a classic tale or two—sometimes of the horror genre, sometimes not—to inspire something new and fresh and terrifying. There are no superficial scares here; these are stories that will make you think even as they keep you on the edge of your seat. From bloody horror to supernatural creatures to unsettling, all-too-possible realism, this collection has something for any reader looking for a thrill.
-MY REVIEW-
The Birds of Azalea Street by Nova Ren Suma-
Rating: 4 Stars- I really enjoyed this one, and thought that it was a great start to the book. It took me a couple pages to get into, but this story totally engrossed me. Suma took things that happen in real life, and mixed it with a bit of fantasy. Imagine Law & Order SVU with a sprinkle of Lani Taylor. Suma was able to create a horror that will leave readers wondering if there's someone peaking through their window.
In the Forest Dark and Deep by Carrie Ryan- Rating: 3.5 Stars- This was so interesting! I have never read such an interesting (or dark) Alice in Wonderland inspired story. Welcome to Wonderland, but watch out for the White Rabbit, he may or may not be a psychopath. While the story was a bit confusing at first, this one kept me biting my nails until the very last word.
Emmeline by Cat Winters- Rating: 2.5 Stars- I think that my main problem with this one was that I tend to not like historical fiction. But I also thought that it just wasn't that scary or thrilling. The characters were also a tad bit annoying. But I did really like the setting, the story, and the overall concept.
Verse Chorus Verse by Leigh Bardugo- Rating: DNF- I've had bad luck with Bardugo's stories, and this one was no exception. This story was very boring. It took me three days to read seven pages, and it just didn't seem worth it to continue reading.
Hide-And-Seek by Megan Shepherd- Rating: 5 Stars- Now THIS is what I wanted! This was such a fun little novella! I really enjoyed Shepherd's Madman's Daughter trilogy, but I hadn't read anything else by her. I loved how much action was packed into this one. Some of the other stories cold be boring at times, but this one always kept me entertained. I also loved the folklore behind the story. I had never heard of Crow Cullom before, and I'm sure that I won't be forgetting about him anytime soon. Finally, I loved how this book scared me. It's hard to scare me, but this book totally gave me the chills.
The Dark, Scary Parts and All by Danielle Paige- Rating: 5 Stars- This was a fabulous story! It didn't have as much action as the previous novella, but I could not put it down! I really enjoyed reading about Marnie. She was a fun character. I thought that it was interesting how she wanted to do the right thing, but she had some evil in her that would be heard. And this story brought up the question, are you willing to love someone, even with their dark, scary parts and all?
The Flicker, The Fingers, The Beat, The Sigh by April Genevieve Tucholke- Rating: 1 Star- This wasn't a scary story, this was a sad story. The characters were bland, and I didn't really like any of them (except for Canary, who we really didn't get to meet). There was nothing really interesting about this one, and I was honestly expecting more from the person who put the book together.
Fat Girl with a Knife by Jonathan Maberry- Rating: 2 Stars- This was an okay story, but I didn't really like it. I felt for the
MC, but I didn't really connect with her. That pretty much ruined the rest of the story for me. I do wish that we had seen more of the zombies, and less of her family.
Sleepless by Jay Kristoff- Rating: 3 Stars- This one was super creepy! But I didn't enjoy it as much as some of the other stories. That being said, this was probably the creepiest story I have ever read. This story was the perfect example of the internet going wrong. Told through the POV of a killer, this one will surely give you the creeps.
M by Stefan Bachmann- Rating: 2.5 Stars- This was another okay story, I didn't love it, and I didn't hate it. I was super confused at first, and the story started off slow. But it quickly sped up as we were trying to figure out who the murder was. I didn't really like the MC, and that made the novella less enjoyable for me.
The Girl without a Face by Marie Lu- Rating: 3 Stars- This was a solid story from Lu! I really enjoyed the mental scares that this one gave. It was interesting to see the MC's guilt form into this monster that followed him. This one could be a little triggering to some readers though, so read with caution.
The Girl Who Dreamed of Snow by McCormick Templeman- Rating: 4 Stars- I really liked this one! I thought that it was impressive that Templeman had multiple POVs, and was still able to make each character connectable. I loved the idea of this girl hunting down bad guys for the greater good, and that the "authority figure" was sweet, and not completely heartless. I'm excited to read more of Templeman's work.
Stitches by A.G. Howard- Rating: 5 Stars- I loved this story! Howard is the master of creepy stories, and this one did not disappoint. This one had very cool characters, and always kept me guessing. It was gruesome, but that just added to the appeal of the story for me.
On the I-5 by Kendare Blake- Rating: 4 Stars- I think that this was a strong ending to the overall novella. I liked the concept of this one, and thought that it made for an interesting and thrilling story. I didn't connect with the MC as much as I wish that I had, but this was still a great story.